Enhancements
Option To Import Excel Spreadsheet In Colleague 7
There is now an option to import Candidate, Company and Contact data from a CSV file.
This is available within the Admin area and is enabled or disabled via a User Group Permission.
A video and example import sheets have provided via the Helpfile:
https://services.colleaguesoftware.com/online-help/colleaguev7/page/admin/importrecords
Mobile UI updates - Lists & User Overview Dials
This release introduces the User Overview dials (along with User selection dropdown) and Lists functionality to the Colleague 7 Mobile UI.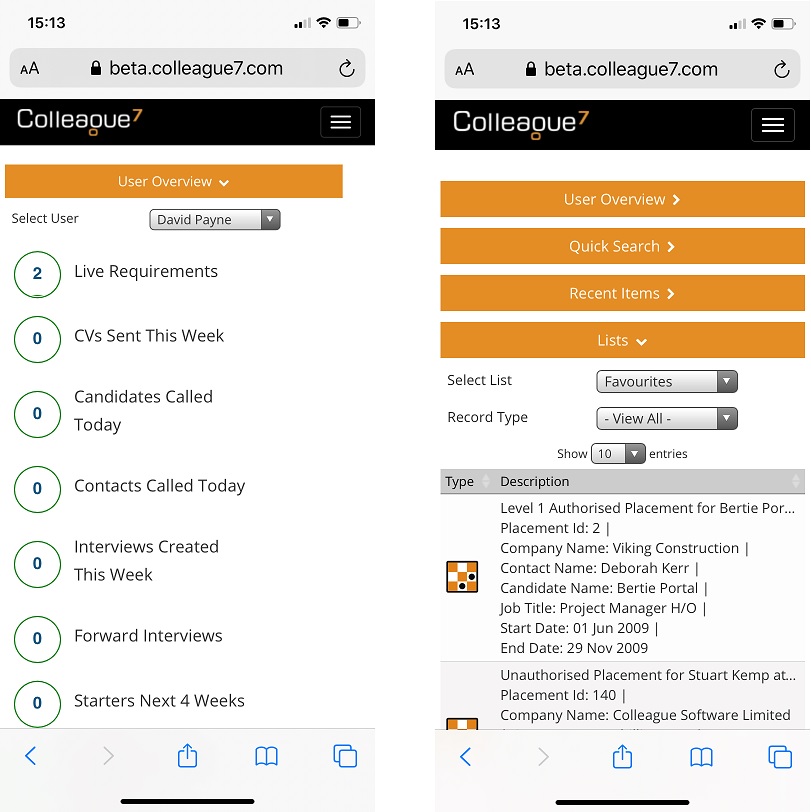 TLS1.2 for RedisCache Connection
Further to an industry standard security upgrade, the RedisCache service which is used in conjunction with Colleague 7 is now connected using TLS 1.2.
Online Timesheet Portal Integration
This build introduces the option to integrate Colleague 7 with the provider: Timesheet Portal.
When enabled, upon second level authorising a Placement record, the placement details (Client, Job, Contractor, Approver) will be copied up to your Timesheet Portal account.
Clients interested in using this service will need to discuss setting up an account with Timesheet Portal directly, before liaising with Colleague to setup the integration.