Enhancements
EMAIL - Campaign Management
It is now possible to send a bulk email from a Search Result or List and montior the recipient activity via a new section called Campaigns.
When sending a bulk email, you will notice a new option to either 'Create Campaign' or 'Associate Current Campaign'.

When creating a new Campaign, you will be able to enter a name and assign an expiry date to the tracking of stats associated to the Campaign (you can leave this field blank if you wish).
Once the email is sent, within the Campaigns area, you will be able to see which emails were delivered, read and the recepients which replied.

On selection of a Campaign, it will load the Campaign Details into a table: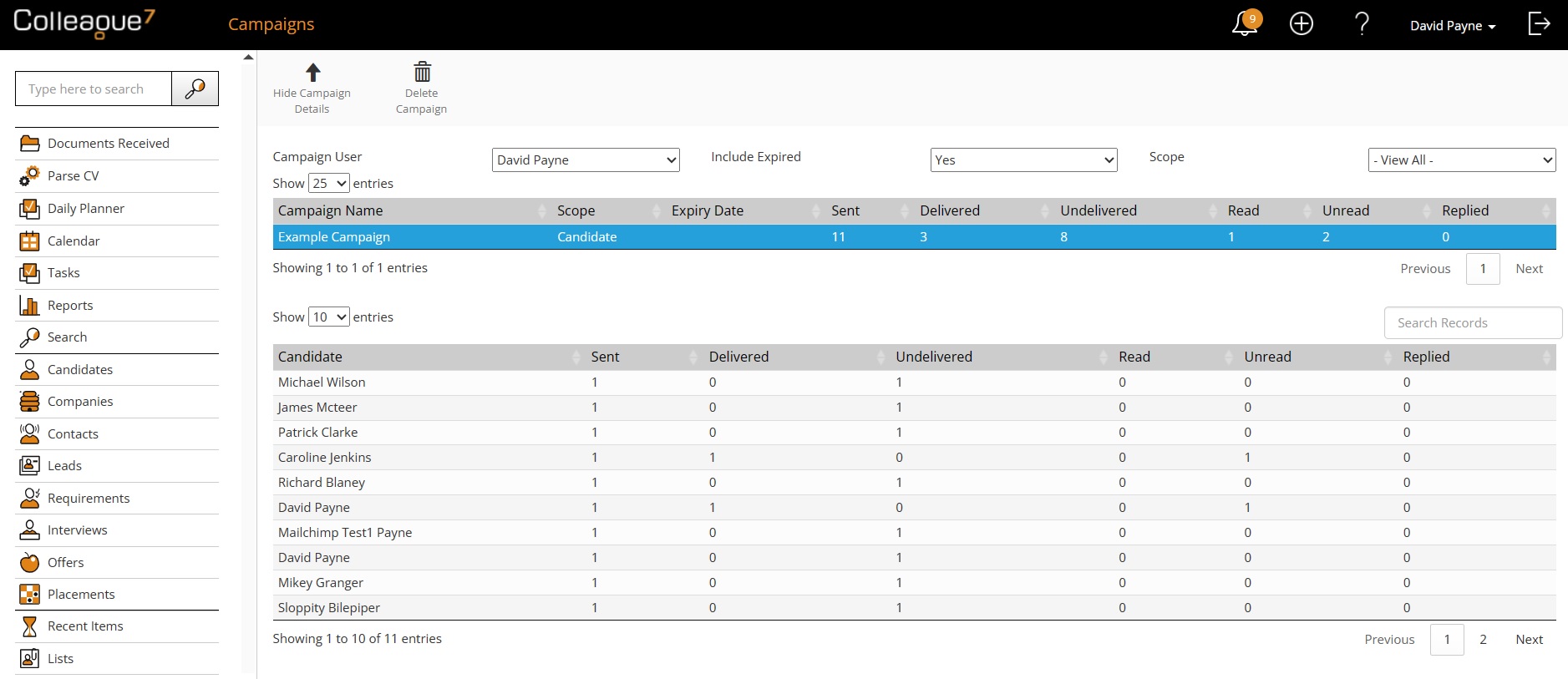 On selection of a record, it will load the histories linked with the Campaign. These histories will be mapped to the Campaign via the 'Linked Records' table.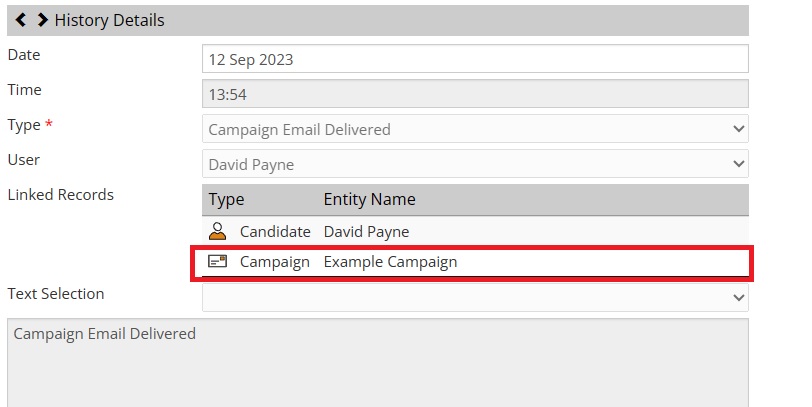 An accompanying video has been recorded to run through the use of this feature.
NOTE: This has been tested with 365 Exchange, Hotmail, Yahoo and Gmail email addresses. Email vendors have varying behaviours with regards to read receipts, delivery receipts, undeliverable responses and how they edit original messages on replies. Further updates maybe delivered based on the feedback of users following eshots to other email vendors.
REPORTS - Updated Placement Activity report (include Retainers)
The Placement Activirty report has been updated with a parameter option to 'Include Retainers'.

When set, this will add two extra tabs to the Placement Activity report output.
One tab will be for 'Outstanding Retainers', which will consist of Retainers that have been created within the specified date range but not completed and the other tab will be 'Completed Retainers' for Retainers that have been completed within the date range.

CHECKLISTS - Complete Checklist item via tickbox and 'Mark As Complete'
It will now be possible to select mulitple Checklist Items and complete in bulk.
When on the Checklists tab (on all related entities), there will be a tickbox to check if you wish to mark the item as completed without opening the item and setting the 'Mark As completed' field to 'Yes'.
The option to 'Mark As Complete' will be available from the toolbar or the right click menu.

As part of this update, we have also added a new 'Completed Status' field to the Admin > Checklists area, so that you can configure what the status of the Checklist should be when it is marked as complete in this way.

PLACEMENT - Show Associated Record History on Placement
When on a Placement record, on the History tab, it will now be possible to select to 'Show Candidate History' and/or 'Show Contact History'.
This will bring through the associated record histories into the History table:

LEADS - Archive a Lead
It is now possible to Archive a Lead record.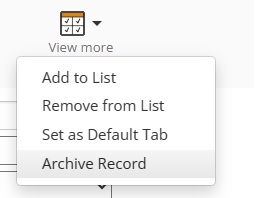 When on the Leads Selection Screen, we have also added the Yes/No option to 'Include Archived Leads'.

The ability to archive a Lead is granted on the basis of a User Group Permission:
Admin > User Group Permissions > Lead > Archive Lead Record
PLACEMENTS - Purchase Order Number Enhancements & Fixes
The Purchase Order Numbers area of a Placement has been updated with the below additonal options:
Order Date
Expiry Date
Currency
Default Yes/No
The 'Default' Yes/No field will set the PO Number to automatically be assigned when creating a Timesheet, Charge or Invoice Schedule.

There were also some issues surrounding the updating of existing PO numbers which have been fixed as part of this update.
CUSTOM FIELDS - Default on Yes/No Fields
When creating custom Yes/No fields against an entity, it is now possible to specify the default value of the field when the record is created.
When set, this will update new records moving forwards. It does not update existing records.