Enhancements
Send CV to Requirement from Candidate
This release introduces the ability to mark a Candidate as Sent whilst linking the Candidate to a Requirement, either with a chosen date or via sending an email from the Candidate record.
When in the Candidate record, via the 'Submit' menu, select 'Link to Requirement'. You will notice there is now the option to select 'Send CV (with email)' and 'Send CV (no email)'.

This gives the user the ability to fast track to the stage of 'Sent' from the Candidate record.
Selecting 'Send CV (with email)' will generate the email form as if you were in the Requirement.
Selecting 'Send CV (no email)' will mark the Candidate as Sent against the Requirement, this also prompts a 'CV Sent On' field to specify a different date.
Offer Record updated with extra features (Commission Splits, PO Numbers, Extra Fields)
This release allows users to edit Notice Periods, PO Numbers, Commission Splits and Margins on the Offer record.
This included some bug fixes that were caused by the 'Placement Term' being changed at Offer stage.
Placement Checklist Alerts
It is now possible to set alerts against Placement checklist items so that these are treated as mandatory list items before a Placement can be 1st level or 2nd level authorised.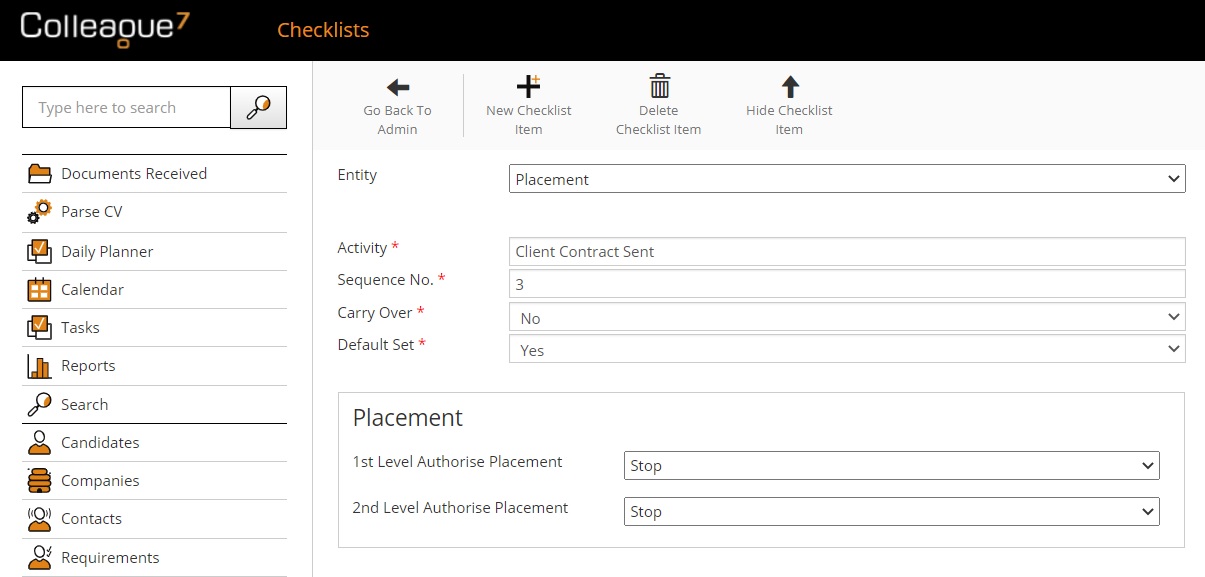 Allow for Notes tabs to be mandatory on records
You can now set 'Notes' as a mandatory field on all entity types.
There is a separate 'Notes' field for each of the five note tabs. These are named as per their label in Global Settings.
Add 'Units' column to Timesheets table
The Timesheets table on the Placement record now includes a Units column advising the 'Total Units' of the timesheet.
Add ability to remove 'Report Targets'
For administrators that are setting targets against User Overview dials, you can now delete a row on the Reports Targets table.