Enhancements
Allow Multiple Addresses to be assigned to a Contact
It is now possible to assign multiple addresses against a Contact record.
When creating a Contact, or accessing an existing Contact, users will be able to select a 'Primary Address' (which will be used for address related merge fields) and as many 'Secondary Addresses' as required.
This is to accommodate Contacts that are known to be based at multiple addresses.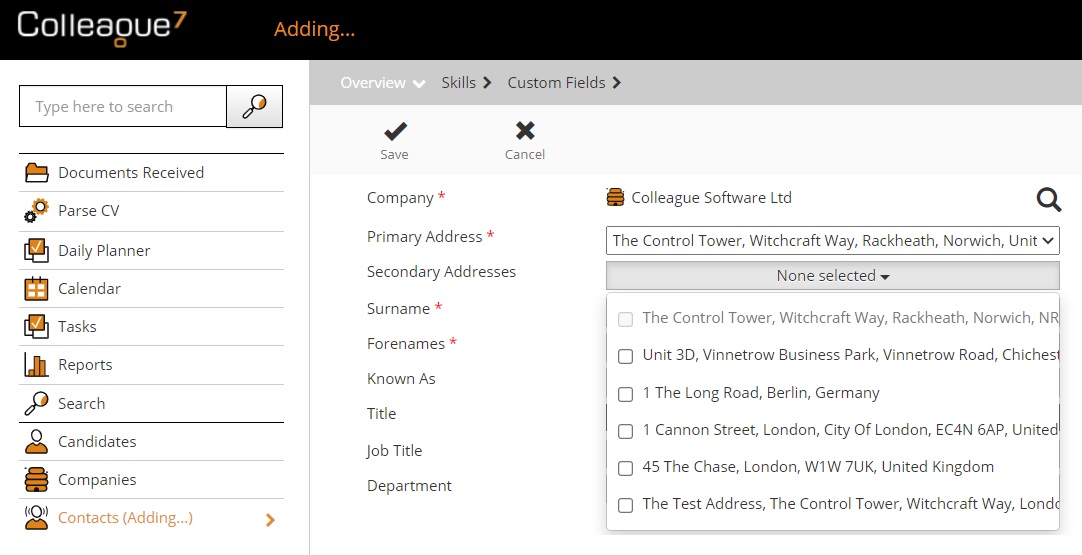 Within the Contact Search there is a new field called 'All Addresses'.
When searching for Contacts via the 'All Addresses' field this will search across both Primary and Secondary addresses.

Timesheets View on Candidate record
Within the Candidate record, there is now an option called 'Timesheets' to view associated Placements, Timesheets and Charges under the 'View More' and right click menus.
This will list all associated Placements. The user can then select a Placement to view related Timesheets and/or Charges specific that Placement.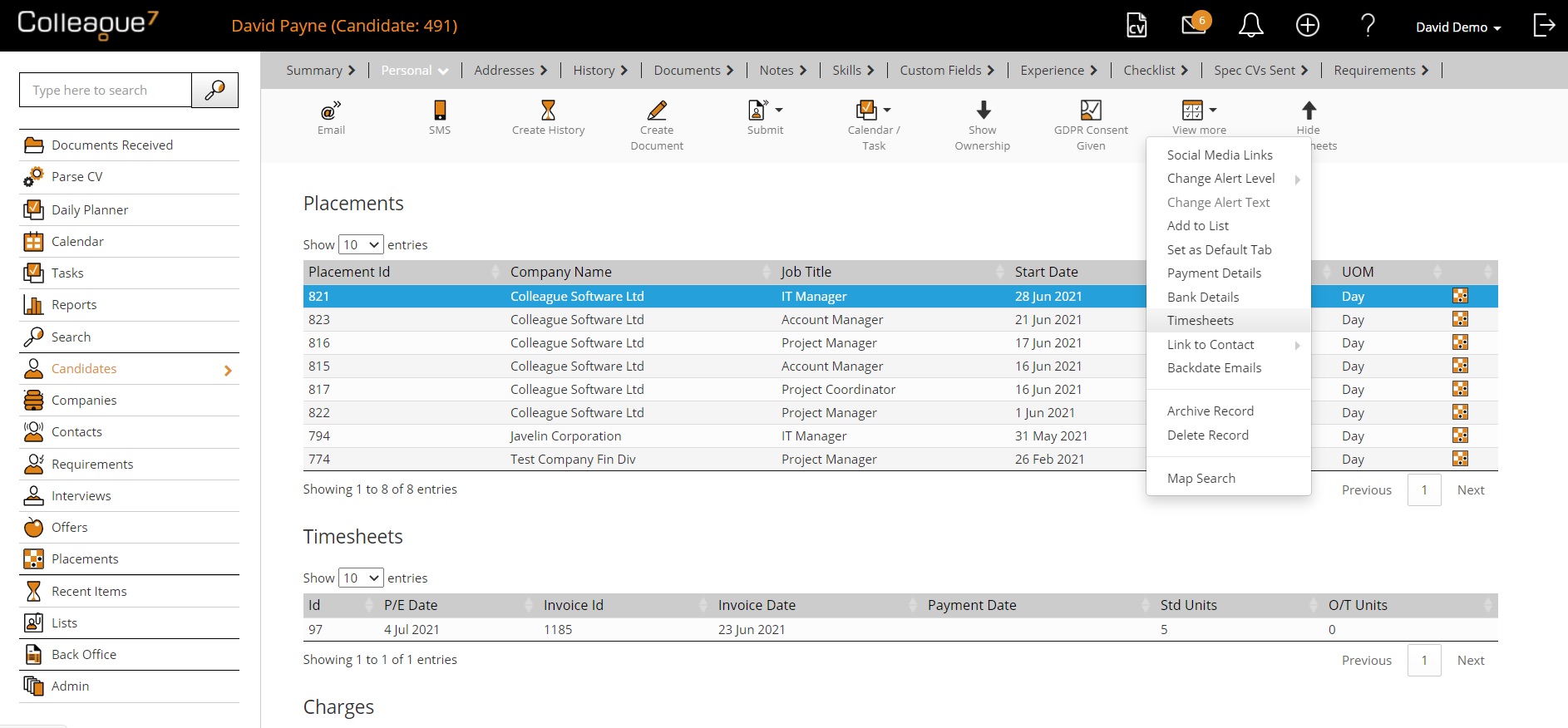 Mailshot User Group Permission Bypass Options
There are now two extra User Group Permissions which allow for a user to bulk email Candidates or Contacts regardless of their GDPR or Mailshot Status. This is intended for use only in extreme circumstances and will be disabled by default.
Latest Placement Alert
When accessing a Placement there is now a check performed to see whether there is a more recent Placement associated within the Placement hierarchy (i.e. an Extension or Amendment).
When accessing an older Placement within the hierarchy, you will be advised that there is a more recent Placement and given a link to access that record instead.

Create Expense Invoice default setting
When generating Invoices within the Back Office area, there is a Yes/No field to set whether separate expense Invoice records are to be created as part of the Invoice generation process.
There is now a Back Office Setting to define whether this is default to Yes or No.
Nominal Code options added to Timesheet Charge
When adding a Charge to a Timesheet, Users will now be able to set the associated Sales Ledger and/or Purchase Ledger Nominal codes against the Charge.
Ability to edit 'Pay All' & 'Charge All' fields on Timesheets
When editing a Timesheet, previously if the Timesheet had been invoiced or paid it would be locked down as read only.
The Timesheet record has now been updated so that the 'Charge All' field will be modifiable provided the Timesheet has not been invoiced and the 'Payment All' field will be modifiable provided the Timesheet has not been paid.