Enhancements
Ability To Edit Skill Criteria
This release introduces the ability to edit Skill Criteria searches manually.
When in the Search area, under 'Skill Criteria' you will find an 'Edit' option. Functionally the search will work the same as before, however should you wish to manually edit the criteria, you can press 'Edit', amend the criteria and then press 'Apply' to make the changes.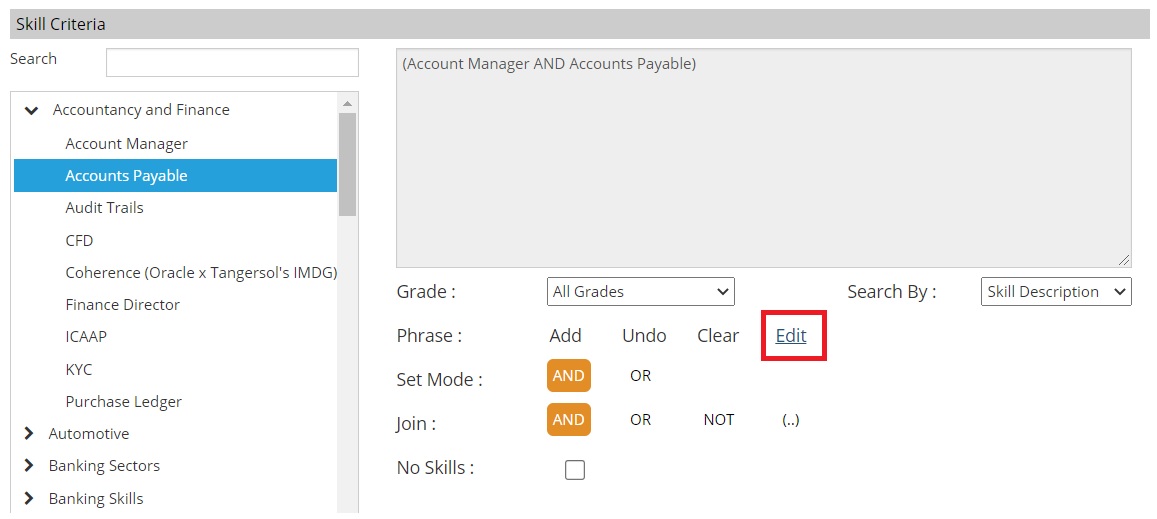 As part of applying the change, the update will validate the entered criteria and advise if there are any issues.
Copy Documents against Checklist Items across to Extensions & Amendments
Following this release, if a document is attached to a Placement Checklist item and that checklist item is set to be 'Carried Over' into an Extension or Amendment, it will make a copy of the attached document.
Thus if you create a contract and attach it to a checklist item, you can then edit a copy of that contract in the extension record.
Additional Stage Filtering Options on Candidates tab on Requirement
There is now an updated Stage filter on the Requirement Candidates tab. This allows you to filter on Candidates that are at 'Current' stage as well list all Candidates that have reached a 'Minimum' Stage.
So you can view all Candidates that are a certain stage and beyond.
Additional User Fields and Lookup
In Admin > Users, there is now the ability to enter a mobile number, skype address and location.
The location is a lookup under User Locations and has the option to specify the telephone number and address associated with the location. The example being an Office address.
These fields are then available as merge options under the UserMerge scope when creating an Email Signature template.