Enhancements
New: Daily Planner
This release introduces a new Daily Planner to the Homepage, allowing Users to view their Tasks & Calendar Entries combined under a 'Daily', 'This Week' or 'This Month' view.
As standard this will show you a 'Daily' view of your Tasks for 'Today' and be filtered on your 'Tasks Due Today' (based on the Due Date) and 'Overdue Tasks' (highlighed in red). These options are tickbox filters which can be turned on or off by pressing the label or icon.
A calendar view is available to the right to quickly adjust the selected date.
Users will also be able to add new Tasks and view 'Completed Tasks', as well as use an option to 'Include / Exclude Calendar' entries.

Create Tasks and Create Diary Option Added To All Entities
It is now possible to create a Diary Event or Task from an entity record without needing to create a History.
From all record types, you will notice a new icon in the toolbar for 'Diary / Task'. On selection this will give a User the ability to create Diary Events/Tasks and should be used in conjunction with the Daily Planner to manage call backs, follow ups and general day to day tasks.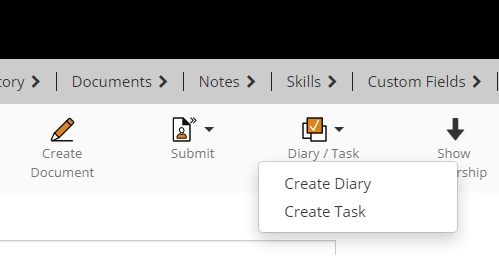 Switch Placement Type on Offer, Extension or Amendment
You now have the option to change the Placement Term whether that be Contract, Rolling Contract, Permanent or Fixed Term Contract.
This option is available when making an Offer, Extension or Amendment.
This will accomodate scenarios such as 'Contract to Perm' or 'Rolling Contract to Fixed Term'.

ISO Codes on Currency and Country Lookups
Colleague now holds the associated ISO codes against Currency and Country Lookups.
We can also store the Dialling Code against a Country Lookup.
This is mainly to be used with integrations.
Contact Count on Company Addresses
Within a Company record, on the Addresses tab, there is now a count of the number of active Contacts associated to an address: