Enhancements
Invoice Schedule - Milestones Against Placement
This release introduces a new area within the Placement record that enables users to list individual deliverable milestones known as 'Invoice Items'.
Upon delivery of an invoice item it can be marked as 'Completed', which releases the item to be invoiced via Back Office.
The new tab is called the 'Invoice Schedule' and access to this area is granted via User Group Permissions. There is a permission to view the Invoice Schedule tab and another permission to Add/Edit Invoice Items.
Please see the below video for a full run through of the functionality:
Complete Multiple Tasks In One Process
The Tasks area has been updated so that it is now possible to select multiple Tasks and complete them in one process.
If you wish to complete a Task and create another for the same record, there is also another option to do this provided you have only selected a single Task.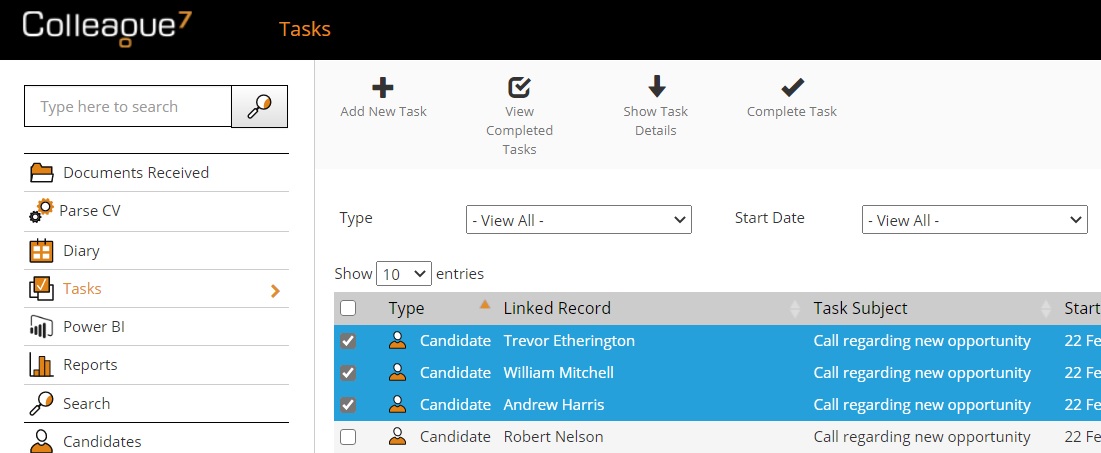 Approvers Contact Selection Field on Contract Placement
There is now a new 'Approvers' section on Contract and Rolling Contract Placements, so that you can list multiple Contacts as approvers to Timesheets/Charges. This is in association with the Timesheet Portal integration.

API Updates - Advanced Candidate Search
There is now the ability to specify whether to include/exclude archived records when performing an Advanced Candidate search via the API.
Developers can also request specific columns from the Candidate record and these will be the only columns you receive.