Enhancements
Mobile Interface 1.0
This release introduces the first phase of our mobile interface. This allows users to gain access to the system via their mobile device using a streamlined version of the Colleague 7 UI.
Users will have the ability to run the Quick Search and view Recent Items within a search result layout.
Clicking on a telephone number will launch the phone caller function on your device. Clicking on an email address will launch the phone's default email client.
The fields that you will be able to view on Quick Search results and Recent Items will be the fields as chosen via the 'Options' area within the Desktop UI.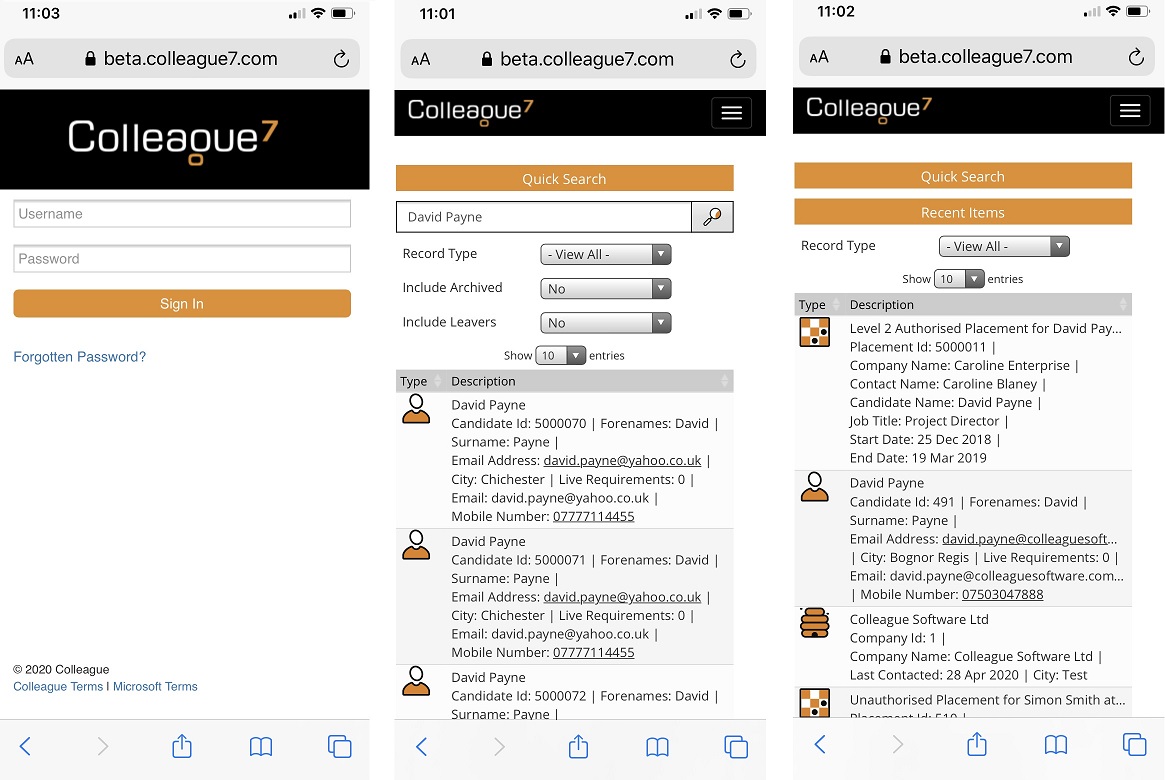 'Parse & Longlist' from Documents Received
This release includes the ability to parse a CV via 'Documents Received' and longlist the parsed Candidate to a Requirement in one workflow.
From within 'Documents Received' on selection of an email, you will see an additional option called 'Parse & Longlist'.
On selection, this will prompt a Requirement lookup allowing you to select the intended Requirement. On clicking 'Select' it will then run the parsing process. Once you have registered the Candidate, he or she will be longlisted.
Longlist Candidates From One Requirement To Another
Included in this release will be the ability to Longlist a Candidate from one requirement.
If you would like to copy previously longlisted Candidates to another Requirement, go to a Requirement where the Candidates have previously been longlisted:
Select the Candidates you would like to copy to another Requirement.
Off the 'Candidates' menu you will see an option to 'Longlist Selected Candidate(s) to Requirement'.
This will prompt a Requirement lookup. Search and select the new Requirement.
The process will then longlist the selected Candidates to the new Requirement
Add 'Sent' Column to List Invoices table
Within the Back Office area, a 'Sent' column has now been added to the 'List Invoices' table. This column will contain the date that the invoice was emailed to the Invoice Contact.
GDPR Consent Template
This release introduces a new section within the Admin area, under Templates, for the wording used for GDPR links.
This replaces the previous GDPR section within the Global Settings page.
Access to this area is enabled or disabled via a User Group Permission.