Enhancements
Power BI Reports - Admin & Menu Option
There is now an option to embed Power BI reports within the system.
There is a user group permission which will allow access to the reports area in Admin to add, update and delete links to Power BI reports ('Power BI Options'). There is also a user group permission to allow access to the Power BI icon on the main navigation menu.
The Report Settings (from Global Settings) and Report Targets have also been moved into the new Reports area in Admin.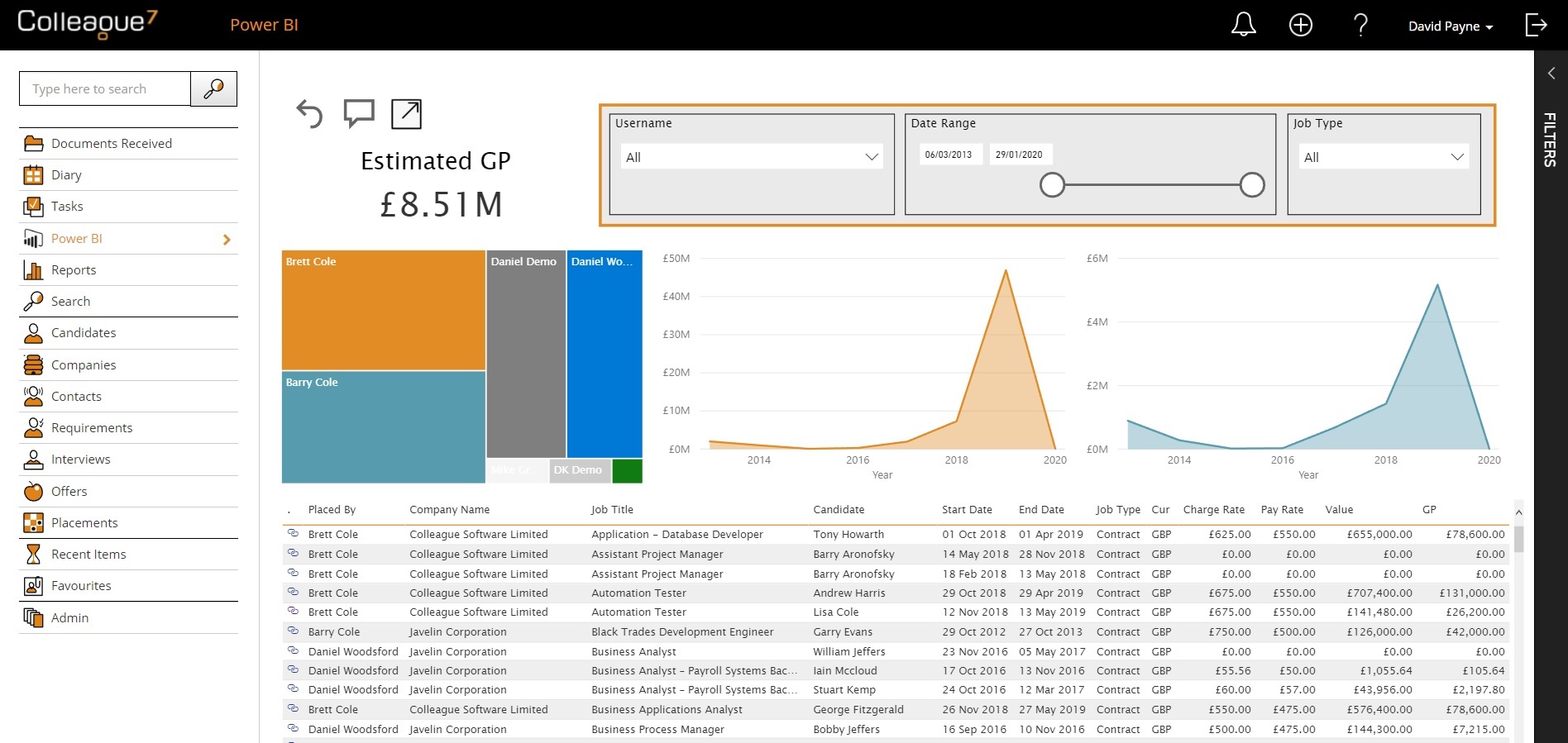 The use of Power BI reports requires a Power BI pro licence per user.
If you are interested in learning more about Power BI reports, please contact our Support Team.
Candidate Search From Requirement - Option to switch Skills Logic to AND/OR
When searching for candidates from a requirement, users may now select whether candidates must match all of the skills from the Requirement or just any of the skills.
Read Receipts When Sending Emails From Colleague 7
Delivery and Read receipts can now be requested when sending emails in Colleague 7. There are also new Global and User settings that control the default value of these new options.
Saving An Already Saved Search
This release introduces the ability to rename and/or resave existing searches.
When saving a search via 'Save As' a new search will be created. When saving the same search using 'Save [Search Name]' this will update the currently saved search. When using 'Rename [Search Name]' this will change the saved search's name.
Search by Alert Levels
It is now possible to Search Candidates, Companies and Contacts by Alert Level and Alert Text.
Sending Email - Option To Change History Type
It is now possible to choose the 'History Type' when composing an email from Colleague 7, when the history is then created it will assign the chosen History Type.
Add Timesheets Tab To Contract Placement Record
This release introduces a 'Timesheets' tab to Rolling and Contract Placements. The Timesheets tab will only show if a user has the appropriate user group permissions ('Enable Placement Timesheets') set to Full Access. This is the first phase of the development work to deliver timesheet functionality in Colleague 7. In the next sprint the option to add and update a new timesheet will be introduced.
Invoice Address Flag and Address Lookup Update
This release introduces an 'Invoice Address' Yes/No field to the 'Address' form on the Company record.
If set to 'Yes', the address will appear in the 'Invoice Address' selection dropdown under the Company Invoice Details (View more > Invoice Details). If set to 'No', it will not be included.