Enhancements
SMS - Handle Text Anywhere API Errors
Error processing within our SMS feature has been enhanced to examine the overall result for the whole message send instance and each individual recipient send success.
Note: the result of each individual message send is for it reaching the TextAnywhere API (not the mobile operator to the end user's mobile).
The blue bar alert now displays more information on the result of SMS message sending, particularly when an error occurs.
An error report is now also provided when a single or mass SMS send fails (including if a small number within the recipients fail). A link is provided within a notification for this.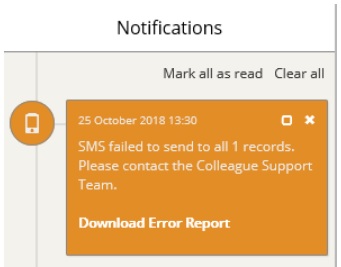 Add Icons To Company, Contact and Placement From Experience Records
Within a candidate record, on the "Experience" tab, there are now link icons within the list of experience table to allow quick access to the associated contact, company and placement.
Candidate Status Update On Placement
There are now options within global settings to set the candidate status to use when an offer is accepted and these can differ between contract and perm roles.

If these are set then in addition a history is created against the candidate to record the change of status and why.